---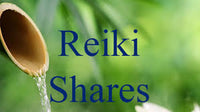 NEW TIME!  Now from 12:30 to 1:30  Same day!
No Reiki experience necessary!  Come and find out what reiki is all about!  Receive a relaxing reiki session, watch it being done, talk with the people who do it, and meet some new friends!  Atmosphere is casual and welcoming, with profound respect for all schools of reiki. IMPORTANT!  If you plan to come, please RSVP to Tonya at Elite, so she knows how many to set up for!  Her phone is 941-786-5889
 Second Tuesday of every month, Elite Medical Center, between Planet Fitness and Skillets.  From 12:30 to 1:30pm!  Reiki students- this is a chance to practice!
 Come find out more- meet your friends- get some beautiful energy healing!